greenBattNutzung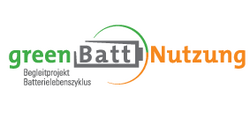 Lithium-ion battery energy storage systems are increasingly permeating into the Technosphere to serve in various applications – both mobile and stationary. Finding solutions to reduce their lifetime energy, material and carbon footprints is crucial in order to accelerate the energy transition and to meet decarbonization goals. Electric vehicles powered by lithium-ion battery systems are expected to replace vehicles running on internal combustion technology to become the dominant category in the decades to come. As this trend continues, large volumes of used automotive lithium-ion battery energy systems will need to be reused or recycled to ensure the optimal environmental outcomes. Several potential pathways involving reuse, recycling or a combination of both, are discussed today. These pathways need to be comprehensively evaluated to determine the most promising alternatives which yield the highest environmental benefits.
Two new research clusters focusing on battery technology have been initiated under the auspices the German Federal Ministry of Education and Research (BMBF). These clusters 'Batterienutzungskonzepte' and 'Recycling & Grüne Batterie' focus on increasing lifetimes, developing new cell candidates, application scenarios and recycling, resource efficiency, circular use of batteries respectively.
Project 'greenBattNutzung' is envisioned to function as an umbrella encompassing these two clusters. Valuable expertise gained from the various projects is to be leveraged and applied at the meta level. The aim is to develop systematic and deep expertise into the entire life cycle of Lithium-ion battery systems. The primary methodology consists of conducting detailed techno-environmental analyses of the entire life cycle of a Lithium-ion battery system, which includes phases such as production, operation, and the end-of-life (EOL) of all its components. The multi-scale character of the constituent clusters allows for detailed simulations with suitable parametrization to be conducted. Based on comprehensive assessments of the state-of-the-art and current best practices, innovative new evaluation parameters are to be derived to investigate relevant aspects from a fresh perspective. Holistic system-level scenarios are to be formulated to simulate applications and recycling pathways. Definition of references, standards and scenarios based on technology-monitoring and road-mapping studies is also planned. New software tools, to be developed within the consortium, will be made available to the larger scientific community under open-source models to enable further research and generate interest in this area. Recommendations to assist policymakers are also to be drafted based on the findings of the project.
Project partner in this project are:
Institute of Machine Tools and Production Technology, Technical University Braunschweig
Institute for Electrochemical Energy Conversion, RWTH Aachen University
Fraunhofer Institute for Ceramic Technologies and Systems, IKTS, Dresden
IME Process Metallurgy and metal Recycling, RWTH Aachen University
Fraunhofer-Institute for Silicon Technology, Itzehoe
Institute for Automotive Management and Industrial Production, Technical University Braunschweig
Institute for Applied Ecology, Oeko-Institute e.V.
Acknowledgement
This research project is funded by the Federal Ministry of Education and Research (BMBF), grant number 03XP0302D, and overseen by Project Management Jülich.
The responsibility for the content of this publication lies with the author.