Novel Investigation Methods for Battery Safety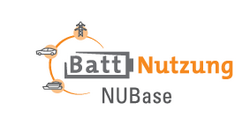 In addition to increasing energy content and performance, safety is a particularly important aspect in the research and development of electrical energy storage systems. The goal of the research project "Novel Investigation Methods for Battery Safety" (NUBase) is to create the basis for a novel and affordable safety architecture for energy storage systems. The project will first investigate different measurement methods independently of each other and then interlink them. Experiments will be conducted focusing on understanding the fundamentals of safety-critical processes in detail. Furthermore, practical solutions for increased battery safety will be developed. In this context the thermal runaway at cell level and the thermal propagation to adjacent cells in the battery pack will be investigated. A deeper understanding of the two processes can help to develop suitable measures to limit thermal runaway to one cell and thus improve battery safety.
The chair is working on the NUBase project in cooperation with three other project partners – RWTH Aachen University, Fraunhofer Institute for Silicon Technology and the Center for Solar Energy and Hydrogen Research (project coordinator).
Acknowledgement
This research project is funded by the Federal Ministry of Education and Research (BMBF), grant number 03XP0322B, and cared by Project Management Jülich.
The responsibility for the content of this publication lies with the author.